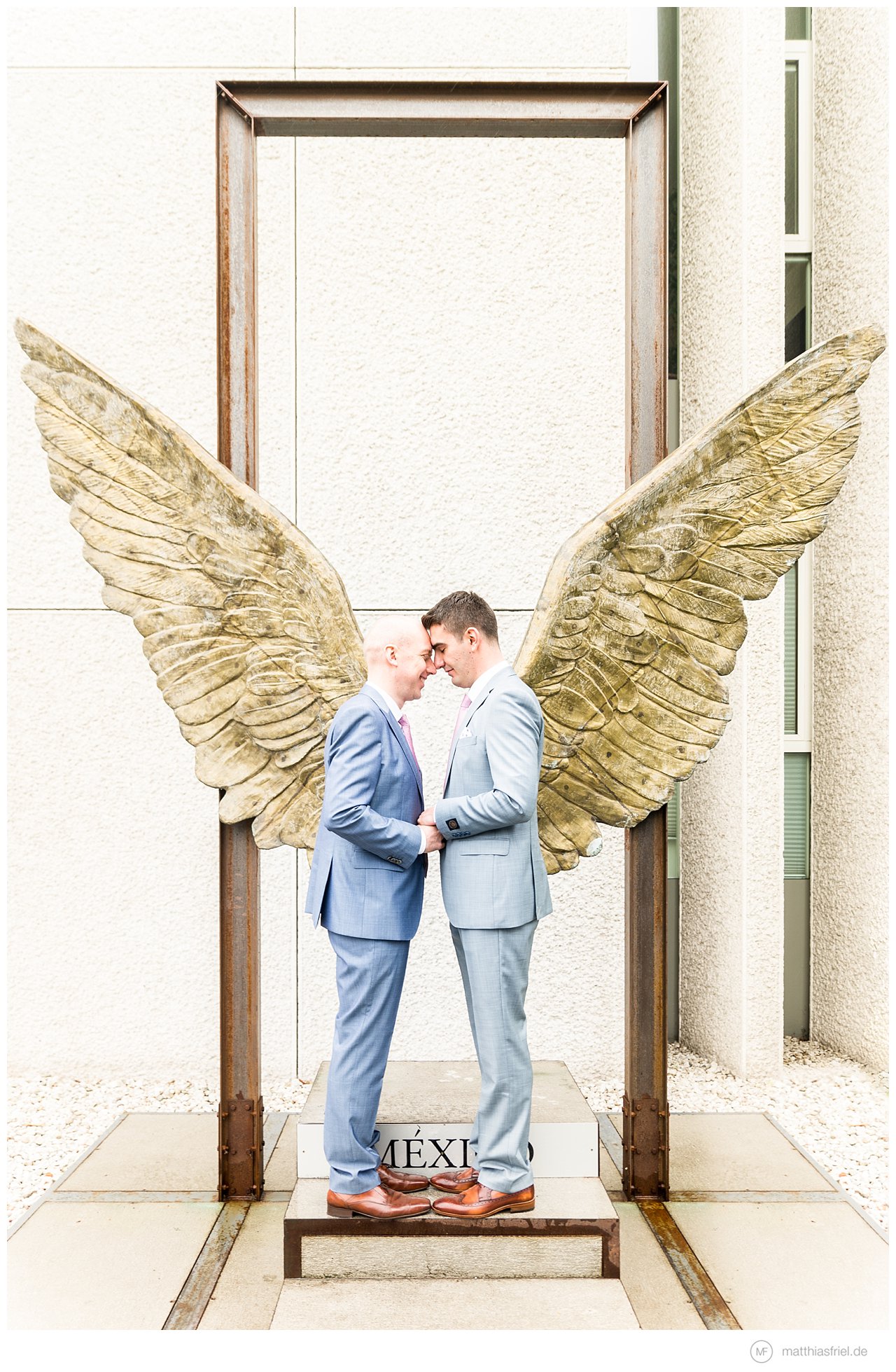 Wenn Liebe Flügel verleiht
– wunderbare gleichgeschlechtlichen Hochzeit
Ich hatte das Vergnügen Teil einer wunderbaren & internationalen & gleichgeschlechtlichen Hochzeit in der Königlich Norwegischen Botschaft in Berlin zu sein. Vom ersten Kontakt über das erste Treffen bis hin zum großen Tag war es eine großartige und entspannte Zusammenarbeit.  Tore & Ömer haben mich begeistert mit ihrer ansteckenden guten Laune, ihrer lässigen Weltoffenheit und der uneingeschränkten Liebe zueinander.
Die multi-kulti- Hochzeit begann mit der persönlichen Trauung in der norwegischen Botschaft in Berlin – Charlottenburg bevor es dann zur Feier mit Freunden und Familie ins Restaurant "Altes Zollhaus" nach Kreuzberg ging. Und ob es nun ein Zufall war oder die Intuition die sich passend meldete – einige besondere Paarfotos schossen wir vor der Mexikanischen Botschaft wenige Stunden bevor Mexikos Oberster Gerichtshof die gleichgeschlechtliche Ehe legalisierte. Darauf stoßen wir an!
Update: auch die USA haben heute endlich die gleichgeschlechtliche Ehe legalisiert 🙂
Der Spiegel schreibt: Homo-Ehe in den USA: Die Liebe gewinnt – Mit einem historischen Urteil hat das Oberste US-Gericht Schwulen und Lesben nun in ganz Amerika erlaubt zu heiraten – die Freude darüber ist groß.
Die Süddeutsche berichtet: Freiheit, Gleichheit, Liebe -Das Urteil des Obersten Gerichts zur Homo-Ehe ist ein Bekenntnis Amerikas zur modernen Gesellschaft. Es wird auch in Deutschland Wirkung zeigen.
When love gives you wings
– charming same sex marriage in berlin
I had the pleasure to be part of a wonderful international same sex wedding in the Norwegian Embassy in Berlin. Working with Tore & Ömer was a great experience from the very beginning. They amazed me with their infectious good humor, their casual cosmopolitanism and their unlimited love for each other. This multi-cultural same sex marriage in berlin began with the personal ceremony in the
Norwegian Embassy
 before the reception with friends and family was held at
"Altes Zollhaus"
 in Kreuzberg.
Update: The USA finally allows same sex marriage 🙂
The New York Times states: Gay Marriage Supporters Win Supreme Court Victory
The Washington Post says: Supreme Court rules gay couples nationwide have a right to marry
---
---